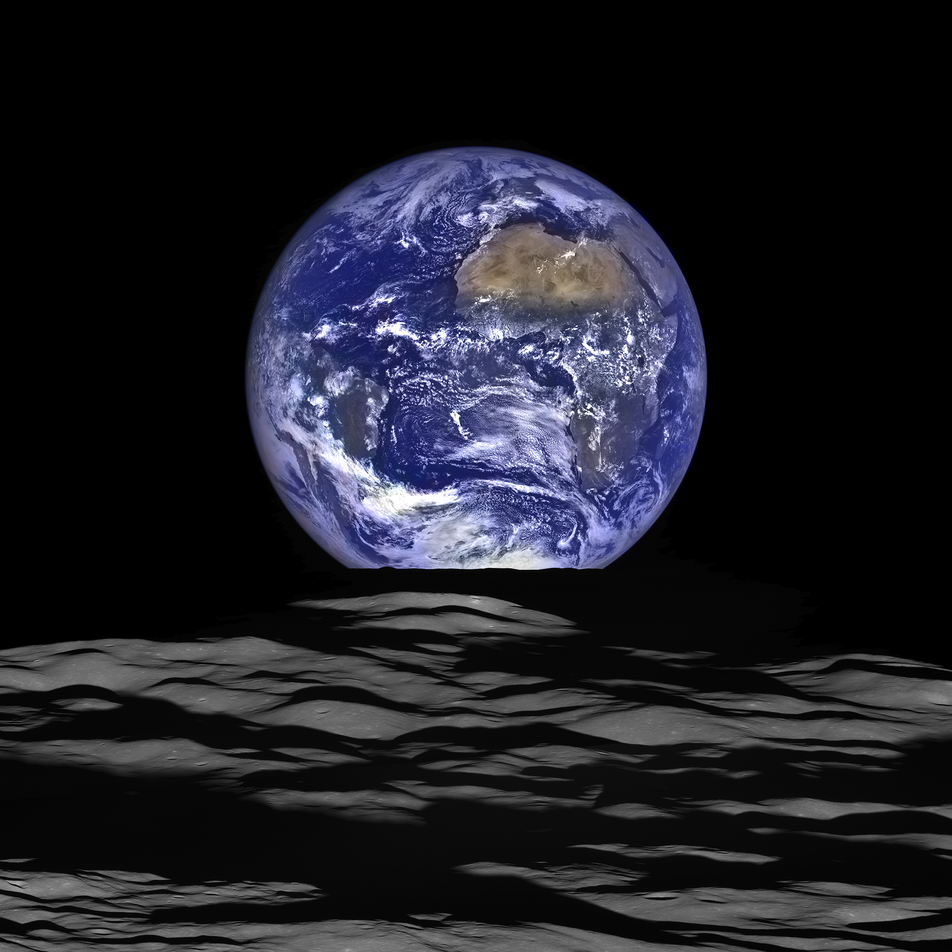 Photo credit: NASA Goddard Space Flight Center
When I First Stepped on the Moon
Man first stepped on the moon in 1969 . I heard this when I was a child, barely seven or eight years. I started searching for more about it, but there was no internet in Pakistan and we were solely dependent on newspapers.
I did not know much about libraries, so I asked my father to get me some English newspapers. He arranged a home delivery for me. The News was one of the best English newspapers in Pakistan, but that wasn't enough to satisfy my curiosity.
One of my uncles worked at Pakistan International Airlines. He arranged for some astronomy books in English from one of his friends in the United States, and to my surprise, somehow managed to get me an original photo of Neil Armstrong with his original signature. I was over the moon with joy.
In the same year, a new girl came to our school and became my classmate. Her family had just moved to Pakistan from the US. She shared my interest in astronomy and knew a lot about NASA. She wanted to become an astronaut, but later became a doctor of medicine, now serving in Pakistan.
Somehow, it was only me who used to talk to her about life in North America. Maybe it was because I would eventually come here for good as an immigrant.
Time took its stride. Becoming an astronaut and going to NASA remained a dream. I got married and it was time to move to Canada. I was excited to reunite with my husband, who came to Pakistan for the wedding — only 15 days — then returned to Canada for work.
My flight to Canada was from Islamabad, so my mother accompanied me from Multan to see me off. I hugged her goodbye, took my hand luggage and joined my fellow passengers in the boarding lounge.
In 2005, there were no tunnels at the airport and passengers had to walk up the stairs to board a plane. I anticipated boarding, but as it was my turn to climb up the staircase, something strange happened. For a moment, all my excitement vanished. My feet were numb and I could not move.
"Welcome," I heard the flight attendant say, but I could not pay any attention to what they were saying. I was alone and scared. I looked back at the long queue of passengers behind me, all strangers, not a single known face. It was one of the strangest feelings I had ever experienced. The flight attendant knew. She gave me her hand and pulled me up onto the iron step.
She held my hand warmly, as if she wanted to say that everything will be fine, don't be scared.
I climbed up the staircase and reached my seat. I felt like a lost kid, but soon I met a couple of girls who, like me, were travelling for the first time alone. I tried to make myself comfortable, but deep inside, I was scared. After 14 hours, we finally reached Toronto, where I met my husband and in-laws who picked me up from the airport.
I can never forget that step I put on the staircase that morning at the Islamabad Airport. In that moment, my past flashed before me, a sped-up time lapse. But that was not my first step onto the moon.
The first step I took down on Toronto Airport was the giant leap from one world to another, where everything and everyone was new, an estranged land where I had to start life all over again.